OUR LEADERSHIP
---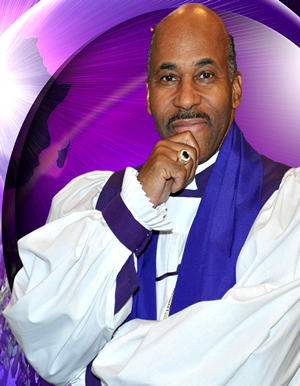 Read Pastor's
Blog
Bishop Ervin Sims, Jr.,. saved at age 16, called to preach at age 18, and has been pastor of Mount Carmel Church of God in Christ since 1980. Under his leadership, church membership has grown to be one of the most significant congregations in the greater Kansas City area.
In 1994, Pastor Sims accused his church membership of being a drive by church. They were driving into the inner city for service passing slum and blight and then driving back out again to their air-conditioned homes. He advocated for the neighborhood exclaiming, "We've got to do something about it." From that powerful message, the membership commissioned him to form Mt. Carmel Redevelopment Corporation (MCRC) to become the catalyst for change in the inner city of Kansas City, Kansas. Sims, former Executive Director of MCRC, led the organization in a multi-million dollar expansion program. Mt. Carmel's master plan calls for the construction of 48 single family homes for low to moderate income families (14 have been completed); and a $6.2 million senior citizen apartment complex (61 units) which was completed in 2001 for low to moderate income seniors. In partnership with the Boys & Girls Club, MCRC built the $8.6 million Breidenthal Community Center, completed in the fall of 2006.
Bishop Sims' ministry is not limited to just the United States. His church has led mission trips to the Dominican Republic, Bristol, England and to Ghana and Togo, West Africa and Cape Town, South Africa. He has held revivals in Accra, Ghana, which birthed a new international Mt. Carmel Church of God in Christ in 2002. In February 2007, Pastor Sims was appointed Director of Missions to the countries of Ghana and Togo, West Africa by Bishop Carlis L. Moody, Sr., International President of Missions and the General Board of the Church of God in Christ, Memphis, TN. It is estimated that 100+ churches make up the jurisdiction of churches in these two countries. His responsibilities include coordinating the operation of the jurisdiction, overseeing existing departments, and establishing new departments when necessary. He has made one to two trips a year as Director of Missions to Ghana and Togo.
Bishop Sims holds a Bachelor of Science in Mechanical Engineering from Kansas University, Lawrence, Kansas. He has been married forty-two years to Mary Kathryn Sims, his lifetime sweetheart, who serves faithfully with him in ministry. He is the devoted father of three children - Lisa Smith, Ervin Jason Sims, and Angela Sims. Bishop and Mrs. Sims are the proud grandparents of Taylor, Ervin and Ethan Sims, Kasey, Keith and Kristian Smith.
Bishop Ervin Sims, Jr. has served as the Superintendent of the Kansas City District from 2003 until February 2012. He was appointed Administrative Assistant for Congregational Development in Kansas East, in 2008. Bishop Sims is an exceptional preacher, teacher, and facilitator. He is regularly sought out to teach workshops at local and national conventions. He has several secular accomplishments and awards for engineering management, community development, and personal achievement.
In April 2011, the General Board of the National Church of God in Christ recognized all of the years of faithful of service and dedication Supt. Sims spent providing leadership to the countries of Ghana and Togo, West Africa by elevating him to the office of the Bishopric. At the 2011 International Holy Convocation, Bishop Sims was consecrated to the office of the Jurisdictional Bishop for Ghana, West Africa held in St. Louis, Missouri. Bishop Sims looks forward to developing a model for International Ministry. The Mt Carmel Church of God In Christ, Inc. was transferred to the Ecclesiastical Jurisdiction of the Republic of Ghana on August 1, 2012. "TO GOD BE THE GLORY!"